CHARACTER
Hope Chance
First appearance
"Pilot"
Number of episodes
65
Portrayed by
Baylie Cregut & Rylie Cregut. Molly Lamont as Thirteen Year old Hope.

Information

Name
Hope Chance (Legal

Name)
Princess Beyonce Carlyle (Birth Name)

Gender
Female
Date of birth
February 2010
Relatives
Barbara June Thompson (Great-Great Grandmother)
Hope Chance is the daughter of Jimmy Chance and serial killer Lucy Carlyle. She is the granddaughter of Burt and Virginia Chance and the great-great-granddaughter of Barbara June Thompson. She is a character on Fox's Raising Hope and debuts in the first episode of the first season. She is portrayed by twins Baylie Cregut and Rylie Cregut.
Character Biography
Edit
Early Life
Edit
Hope was born to Lucy Carlyle and Jimmy Chance and was originally named Princess Beyonce while her mother was in prison for killing her previous boyfriends. After the death of her mother she was given to Jimmy.
The Series
Edit
When she was 6 months old, her mother was executed and custody was given to her father Jimmy.
Season 2
Edit
Hope lived with the Chance family, (Jimmy, Virginia, Burt, Maw Maw), and towards the end of the season spent more time with Sabrina.
Relationships
Edit
Hope lives with her father, grandfather, grandmother and great great grandmother in her great great grandmother's house and in part of the first season her father's cousin lived there also. Though originally she lived with her biological mother in prison for the first six months of her life. 
Hope's non-biological family consist of Shelley and Sabrina. Ever since she was six months old Hope has been going to Shelley's day care and the two have developed a close bond. Shelley was also the first name Hope spoke. Sabrina became a close friend to Hope's father soon after Hope came to live with him and Sabrina soon began to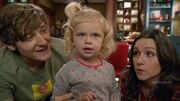 care very much for Hope and was like a motherly figure to her. Instead of calling Sabrina by her name, like she does with Shelley, Hope begins calling her Mommy towards the end of the series.
Sabrina Chance
Edit
Sabrina Chance (nee' Collins) is Jimmy's wife and Hope's stepmother. She was once the only person who could convince Hope to go to bed until she spent an entire weekend with her thus earning the little girl's love. This prompted Hope to call Sabrina "Mommy".
Shelley is the woman who owns Hope's daycare. At first, she is the only person Hope will smile for. She and Hope seem to have a good relationship with each other.
Javier and Marcus
Edit
Javier and Marcus are asked to watch Hope while Jimmy goes to a Halloween party with Sabrina. Since they have never appeared after "Don't Vote for this Episode", her relationship as a toddler with them is not known.
Hope is played by twins Baylie and Rylie Cregut
Her first name spoken was Shelley.
Hope is quite intelligent for her age. She is shown to be learning at a faster rate than her father when he was her age.
Her birth name is "Princess Beyonce".
Despite Hope being a main character she said less then ten words during the entire series.
Lucy Carlyle still calls her Princess Beyonce.
Hope Chance was once a main character of a television show inside Raising Hope; "Yo Zappa Do"
Personality
Edit
Hope seems to be somewhat sassy and is a bit of a troublemaker. But she is also smart and very sweet. She hates most animals.
Appearance
Edit
Hope has blonde hair and blue eyes. She wore white diapers in Season 1 and 2.
Appearances
Edit