Ad blocker interference detected!
Wikia is a free-to-use site that makes money from advertising. We have a modified experience for viewers using ad blockers

Wikia is not accessible if you've made further modifications. Remove the custom ad blocker rule(s) and the page will load as expected.
Barbara June-Thompson, always referred to by her family as "Maw Maw", is Jimmy's 86-year-old senile great-grandmother.
Character Biography
Edit
Early Life
Edit
86 years old. The exact date of her birth is unknown.
She married Wilfred Thompson and had her only child, Virginia's mother, Louise. Louise became pregnant at a young age with Virginia, and soon abandoned her. After Louise left, Maw Maw and Paw Paw were left to raise Virginia.
Later Life
Edit
When Maw Maw's granddaughter Virginia was fifteen she was impregnated by Burt Chance and had a son, Jimmy. In a flashback in the episode "Say Cheese," Maw Maw tells a young Jimmy to kill her if she ever gets as crazy as Burt and Virginia, suggesting she may have been lucid when Jimmy was a child.
When Jimmy was 23, he impregnated his serial-killer one-night-stand, Lucy Carlyle, and she had the baby in prison. Jimmy gets custody of the baby after Lucy's execution, and Virginia names the baby "Hope." Hope is Maw Maw's first great-great granddaughter.
It is expected that Maw Maw will live well into her great-great granddaughter's life, since in the episode "A Germ of a Story," it is implied that poor hygeine has made Jimmy's family live long lives.
In Season 3 Maw Maw met her mother on Mothers Day after Burt and Barney went to take pictures of Maw Maw's childhood home.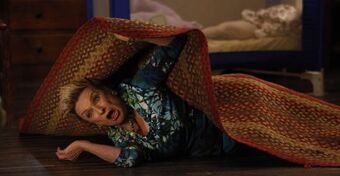 The Series
Edit
Maw Maw is shown to be a heavy smoker in the first few episodes.She likes to burn Burt. In the episode "Dead Tooth" however, she tells Burt when she is lucid that she quit smoking in 1971 because she wanted to live long enough to find out what Virginia would turn into.
In the episode "Don't Vote for This Episode", Jimmy tells Hope about his 18th birthday and how, on the morning of his birthday, he, along with Burt and Virginia were kicked out of the house by Maw Maw.
​She sometimes thinks that Jimmy is her late husband Wilfred Thompson.
She is almost never lucid.
She eats spaghetti in the bathtub.
Burt and Virginia have to lock her in her room because she does crazy things in her sleep, such as bringing a horse to the house.
She appears to be a heavy smoker in the first few episodes. In later episodes, she is no longer a smoker.
She was once a cheerleader for the Baltimore Colts.
She shares a birthday with her great-grandson, Jimmy.
She Loves pickles and taffy.
She was once Miss Natesville.
She used to be a bathing suit model.