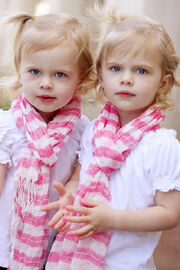 Rylie Cregut was born February 12th 2010 just one minute after her twin sister Baylie. The girls were born in Ventura CA and enjoy swimming and gymnastics. Before they became famous, their parents separated when they were both still babies. Their acting debut was in Desperate House Wives playing Lynette's youngest daughter Pagie at Birth. Following this, Rylie, along with her twin sister Baylie, stared in FOX's Raising Hope as Hope Chance. The twins were named one of the top child actresses in 2011-2012 by Yahoo!TV. Besides acting, Rylie enjoys hanging out wither her twin sister Baylie, different musical instruments like Piano, books and the pool! 
Ad blocker interference detected!
Wikia is a free-to-use site that makes money from advertising. We have a modified experience for viewers using ad blockers

Wikia is not accessible if you've made further modifications. Remove the custom ad blocker rule(s) and the page will load as expected.