Sabrina Marie Chance (neé Collins) is a character on Raising Hope played by Shannon Woodward. She first appears outside of Howdy's, accusing Jimmy of stealing one of their shopping carts and mistaking him for a child-napper.
Sabrina works at the small Natesville grocery market, Howdy's. As a source of entertainment from her unamusing job, she spends most of her time drawing on cantaloupes and mixing up the cereals and soup cans (her boss, Barney, being unaware of this).
Sabrina immediately catches Jimmy's attention, but has a boyfriend, Wyatt, who is studying finance in New York. Ironically, a large part of seasons one and two consist of Jimmy chasing after Sabrina, whereas in a flashback episode, we realize that she harbored a crush on him before they even met, presumably because of his gothic style.
Later, while working for a client, Burt discovers that Sabrina is the daughter of a very wealthy family. Sabrina becomes insecure about herself, comparing her non-achievements to those of her friends and former classmates from high school. Jimmy convinces Sabrina to confront her own shortcomings and to embrace her strengths, mending her relationships with her sister and her past friends.
As of season 2 episode 14, Sabrina breaks up with Wyatt and starts dating Jimmy.
In the season 2 finale "I Want My Baby Back, Baby Back," Jimmy leaves Sabrina so he can be with Hope and Lucy in Tibet. After Lucy and Jimmy pass Sabrina on their drive to the airport, Lucy stops the car and asks Jimmy if he loves Sabrina. When he says yes, she states that what she's about to do is for Hope, so she can have a "happy family." Unexpectedly, Lucy leaps out of the car and begins to chase Sabrina down the street with a knife but, in the process, is hit by a bus driven by the blind musician who attends Jimmy's church.
Personality
Edit
Sabrina has a very sardonic and sarcastic personality and is very beautiful but is nothing like Virginia In sergeant ways
During Sabrina's relationship with Wyatt, Wyatt makes her take meds so that her intense fear of spiders could go away. (When she was six, a spider laid eggs in her ear while she slept, causing her to wear pantyhose over her face whenever she goes to bed.) However, Jimmy helps cure her odd phobia and, at the end of season 2 episode 15, Sabrina and Jimmy are happily seen sharing a bed blanketed by a bed canopy. Jimmy also states that she acted more impulsive and fun without her meds-- and that was a good thing, because it made the Chance family like her even more.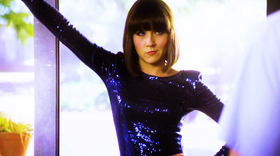 Sabrina seems to be cool and collected. She was once described as "smart and insightful" by Virginia. In spite of this calm exterior, Sabrina can become very anxious and jittery, such as when Jimmy asked her to be Hope's legal guardian if anything happened to the Chances.
Shelley claims that a plus-side of living with Sabrina is the fact that she keeps backups for everything, including clothes, soaps, and kitchen supplies. After this, Jimmy believes that the reason why Sabrina has male study partners and tries to look good around them is because they are "backups" for her current boyfriends, such as when she was dating Wyatt, Jimmy was her backup.
Appearance
Edit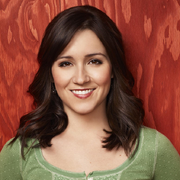 Sabrina is thought by many characters in the show to be beautiful. In an episode of season 2, she was told that she was pretty, and, as a result, wasn't expected to be smart. Sabrina is also somewhat short, and occasionally Virginia and Burt will make fun of her height. In season 1, Sabrina originally had long hair, but in season 2 she appears with shoulder-length hair. She is also revealed to wear contacts, and has gigantic, black-rimmed glasses which make her look nerdy.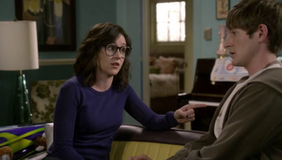 The Chance family also comments on how her humble height will never make her an actress (when Shannon Woodward is, in fact, playing Sabrina - S2E2)
Relationship with Jimmy
Edit
Jimmy had a crush on Sabrina throughout season 1 and most of season 2, but she remained oblivious to his attraction to her. During that period, they became very close friends. Sabrina also occasionally takes care of Hope.
In the season 2 episode "Jimmy's Fake Girlfriend," Jimmy confesses his true feelings to Sabrina in a play he wrote and they start a relationship. In the first episode of season 3, Jimmy proposes to Sabrina and she accepts. They are married in the season 3 episode "Modern Wedding."